YouTube Ads has evolved over the years since it was first introduced, now they offer YouTube TrueView Ads for marketers. It has proved to be an effective marketing tool for businesses all over the world. The platform ranks among the biggest for advertisers.
YouTube stands as the second largest search engine after Google. It boasts of over 1.9 Billion monthly active users; and about 50 Million of those users are content creators, who upload about 576,000 hours of video every day.
With YouTube in your marketing arsenal, and by creating a YouTube business account, you can put your product or business in the ears of Millions of people every single day.
This guide seeks to show you how to go about marketing your business effectively on YouTube in order to get a full ROI.
When you have finished digesting this guide;
You will know how to navigate YouTube Ads Manager
You will have an understanding of YouTube's six Ads format
You will master everything about YouTube Ad targeting
You will know how to monetize your channel
YouTube Video Ad Formats
Why do people visit YouTube? They go there for video content. What better way to reach your audience and build a brand on the platform if not through video Ads?
On YouTube, there are three video Ad categories:
TrueView Ads
Non-skippable video Ads
Bumper Ads
TrueView Ads
TrueView Ads are those Ads that you can easily skip that appear at the beginning of a YouTube video. TrueView Ads are a great place to get started when advertising on YouTube. TrueView Ads are great because;
They are versatile
They are low risk, and
They reach a wide audience
They are Versatile
They are versatile because, they allow you to advertise your products and services with how-to videos, demos, video testimonials, etc.
Last year, Superdry won the 'YouTube Works for Brands' Award for their TrueView Ads, 'This is the Jacket'. The campaign was so successful that it gave the company a 37 percent rise in digital sales, and a 55 percent rise in hero product sales.
For your TrueView Ads to be as successful as that of Superdry, it must include a call-to-action button (CTA), from the start of the video. Your CTA could be in the video itself, or via the overlay Ads and sponsored cards (this will be explained later in the article).
TrueView Ads are one of the best ways to drive immediate customer engagement elsewhere on your YouTube channel.
They are Low Risk
To reach a relevant audience, without having to spend too much, TrueView Ads are the way to go. You are charged only when your Ad has: played for 30 seconds and above, and when a user has taken an action on your Ad, like a click.
This is great because, TrueView Ads can be skipped after five seconds of running. Therefore, you will not waste Ad dollars on people who are not interested in your product or services.
They reach a wide Audience
YouTube takes Google search history into account when showing your Ads to an audience, therefore, you are essentially combining two of the biggest search engines on the web.
Your TrueView Ads can also appear on other publisher websites in the Display Network, depending on the type of TrueView Ad you choose: In-Stream or Discovery.
TureView In-Stream Ads
In-stream Ads play during YouTube videos, and they also play in other places in Google's Display Network, like apps and games.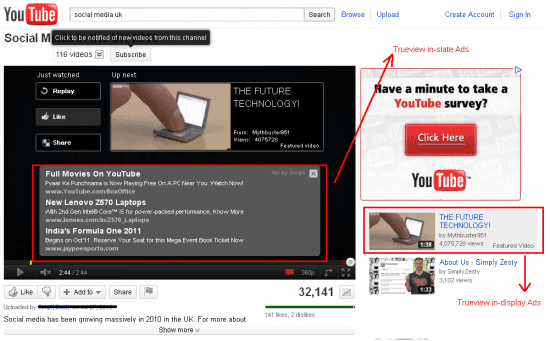 In-Stream Ads can be up to 3-minutes long, but the generally recommended play time is 30-seconds. It has proven to be more effective. And the Ad must be able to capture the users attention from the beginning to keep them glued to the end of the video. Remember, humans have a short attention span. So keep the video interesting to keep their attention.
TrueView Discovery Ads
TrueView Discovery Ads are just like Display Ads. They used to be referred as In-display Ads. There are those recommended videos that pop up on the YouTube homepage, or as recommended videos on the search page.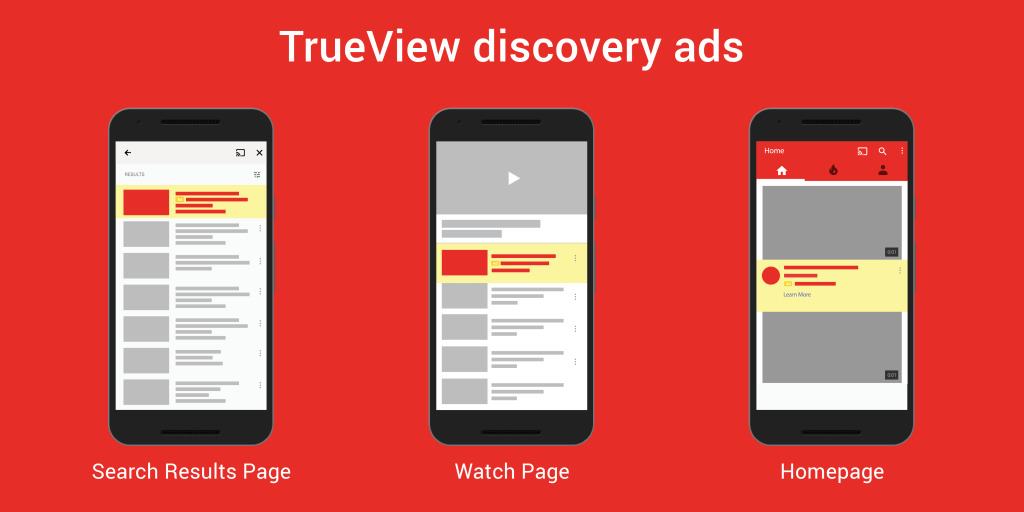 There is no limit to video length with Discovery Ads, because people choose to navigate them. The display Ad headline has a 25 limit character, and the body copy can have a maximum of 35-words.
TrueView Ads are low risk, high reward. Even a skipped Ad can boost engagement. They are a win-win in all situations.
TrueView for Reach
Google announced TrueView for reach in April, 2018. It is a new way of optimizing TrueView Ads based on campaign goals. Instead of paying whenever a user watches your video Ad to completion, TrueView for reach enables CPM (i.e. Cost per 1,000) pricing for shorter Ads. This means you pay per 1,000 views. To qualify for 'TrueView for reach', your video Ad must be between 6 and 30-seconds.
TrueView Ads for reach is great, if you intend to reach a wider range of audience, quickly, and if you offer a wide range of products or services. However, if you are running Ads for a more niche product or service, TrueView for reach might not be as useful, because your Ad dollar might probably be better spent converting your specific audience.
Non-Skippable YouTube Ads
You know those YouTube Ads that you can't just skip, and you have no option but to watch them till the end, they can be really annoying, right? The good news is that people are learning to tolerate them.
There are two types of non-skippable Youube Ads: Pre-roll Ads and Mid-rolls Ads.
Pre-roll Ads are those Ads that appear before a video plays.
Mid-roll Ads are those ones that appear while the videos play. They usually come up in videos that are 10-minutes or longer.
So, if you're looking to tell a deeper story that requires a little build up, you may want to set some non-skippable YouTube Ads. Ensure that your Ad is hyper-focused and clearly showcases your product's value to your audience.
Ensure that the video communicates your messages audibly as well as visually. When your message is clear and audible, even if someone is not interested in watching your video, they can still hear what you're offering.
Non-skippable Ads are very effective for increasing your brand exposure to specific target markets. Another benefit of non-skippable Ads is that, they are paid for on a CPM (cost-per-mille) basis. This gives you more control over your Ad spend.
Bumper Ads
Bumper Ads are like a more tolerable version of non-skippable Ads. They usually last 6-seconds at most. They come up at the end of a YouTube video. They are paid for on a CPM basis. Since they are short, they are perfect for targeting mobile users.
You can cut-down on the 'annoying' factor of non-skippable Ads by creating a 6-second bumper version. You can then re-market the bumper version your users who have seen the non-skippable version. This way, you can reinforce exposure to your brand without leaving users frustrated.
How to Set up Video Ads on YouTube
When you have uploaded your Ad video on YouTube, the next thing to do would be to set up a campaign with a targeted audience.
How to Set up your Campaign
Click Campaigns on the main toolbar.
Click the +Campaign button, then New Campaign.
Select Video as your campaign type.
Establish your campaign goal and subtype.
Name your campaign.
Enter your budget.
Enter the locations and networks where you want your ad to appear, as well as the locations and networks you'd like to exclude.
Enter your target audience's language.
Name your ad group.
Establish your bid amounts.
Establish your target audience.
Targeting the Right Audience
Build a YouTube Ad campaign in Google Ads and take advantage of the interactivity between these two search giants. When you have built your YouTube video Ad campaign in AdWords, you can use the insights gained from YouTube to re-market to new audiences with the Display Network.
Below is the full list of targeting options for video Ads on YouTube:
Demographic Group
This is the demographic filter like: age, gender identity, parental status, and income. You can target your audience based on those demographic to reach your prospects.
Detailed Demographic
This feature enables you to target a specific audience within your demographics. You can choose to target people, based on their marital status, home ownership, education, parental status, etc.
Interests
You can target people, based on their search history and personal interests. If they previously searched a product or service related to what you are offering, your Ad automatically pops up in their videos.
Affinity Audiences
This targeting option is mainly for businesses who advertise products on TV and also want their campaign to have an online presence. This targeting option is similar to interests targeting, but it targets a broader audience. Affinity audiences include groups like people, interested in PC gaming, etc.
Custom Affinity Audiences
This option builds on Affinity Audiences; it offers a more specific targeting. Instead of just targeting people who like cooking, Custom Affinity Audiences might help you target people who frequently search for barbecue equipment.
Life Events
This option involves targeting people's purchasing habits and brand preferences change when they reach certain milestones. For instance, when a person graduates from college or university, when a person gets married, etc. When you target audience by a life event, it allows you reach people based on these important moments and market your product or service accordingly.
In-market Audiences
This option enables you to target people who are searching for products like yours. Google determines whether someone's 'in-market' for a product or service based on their Ad click history, conversions, search history, and how often they search for specific terms.
Custom Intent Audience
This targeting option enables you to reach people whose search terms indicate that they want to make a purchase. For instance, a person who searched, "where to hair removal cream" is likely to buy a hair removal cream than a person who searched, "why I need a hair removal cream."
Video Re-marketing
This feature offers you two options:
Target people who have watched other videos on your channel, and
A related video they have watched elsewhere.
This is useful because, you can target a specific audience who is interested in your product or services.
Placement Targeting
With this option, you can choose to place your Ads on unique channels, Apps, Websites, or placements within websites like; YouTube channels, and sites on the Display Network. You can also study the performance of your individual Ads in AdWord so that you remove low performing Ads to optimize your campaign.
Keyword Targeting
You can target people based on their search terms. For instance, if you sell Multi-vitamins, you can target people asking Google about the best Vitamins to improve metabolism.
Device
Target people based on the their access device. You can target people browsing with a desktop, mobile or smart TV. With this option, you can also target people using specific devices, like if you're an Android developer, you target your products at Android phone users, excluding iPhone users.
Setting Your Video Campaign Live
When you have successfully targeted the right audience, it's time to make the campaign go live. You can do this in three simple steps:
Select the video you uploaded for this campaign
Choose your Ad format (In-Stream or Discovery)
Click Save and Continue
There! Your TrueView campaign is ready to go Live!!!
When creating a bumper Ads campaign, the steps are pretty much the same, the only thing is, you will click the 'Bumper Ads: 6-seconds video Ads' option, instead of In-Stream or Discovery.
Non-Video Ad Format on YouTube
If you're not prepared to produce your won video Ads, or you want to make an already existing Ad interactive, you can still run Ads on YouTube with Overlay Ads, Display Ads, and Sponsored cards.
Overlay Ads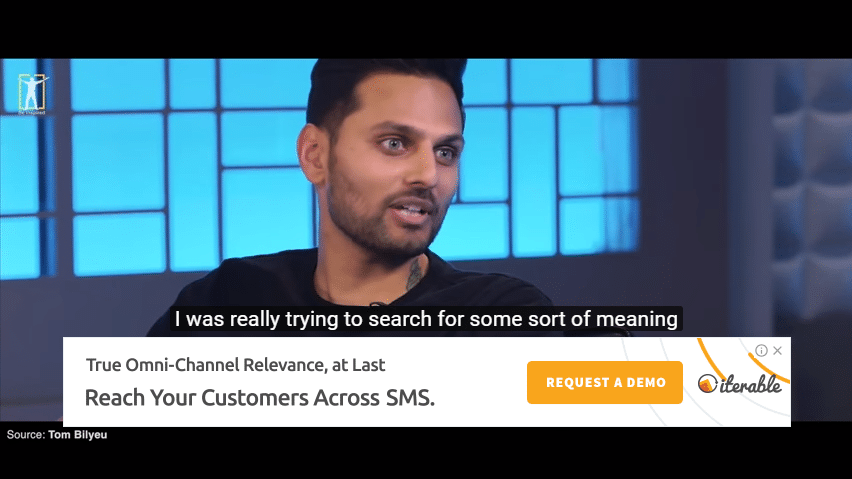 If you are running a Reserved Media Placement Ad on YouTube, you can set up overlay Ads with partner videos.
Overlay Ads are banner Ads that you often see running along the bottom of a video. They can come up as simple text Ads or visual banners. Google reveals a full detail on how to set up overlay Ads in their article.
Display Ads
Display Ads show at the top of video suggestion list. They can be easily managed with Google AdWords, allowing you to double up with the Display Network for maximum reach.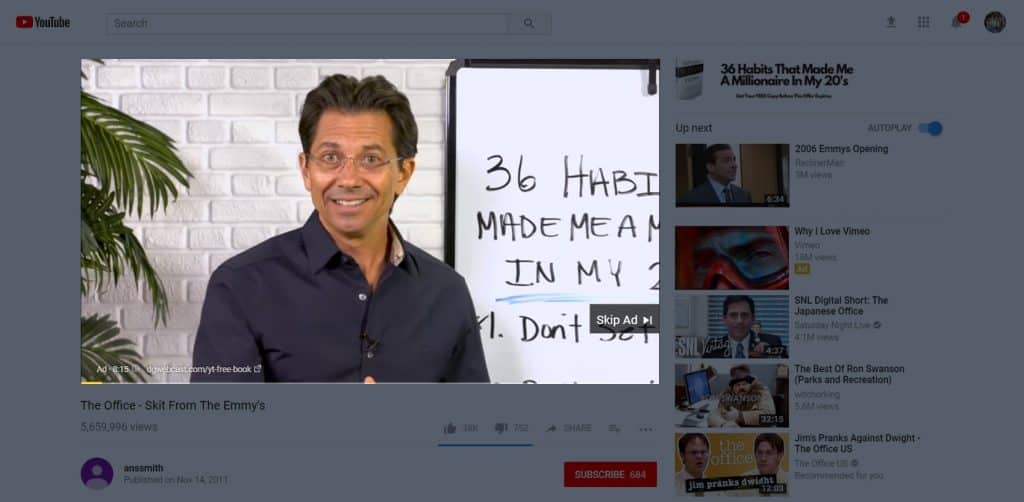 Cards and Sponsored Cards
Cards are those CTA pop-ups that are set to appear within the YouTube player. You can use this feature to add interactivity to your videos.
YouTube cards are effective because they're an unobtrusive way to run Ads while also driving actions from viewers. Cards will expand to full size when they're clicked. Of course, users will only click if they are interested in your Ad.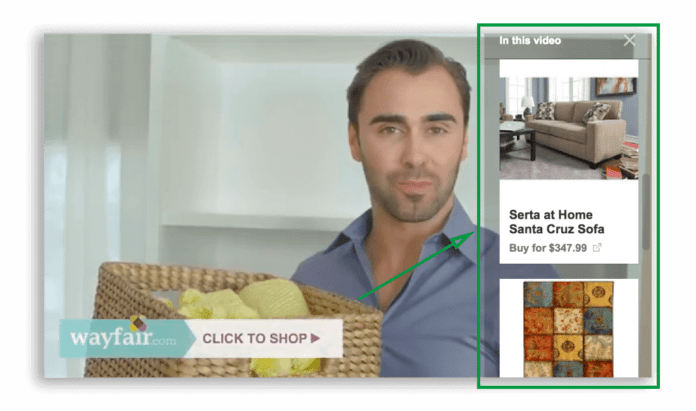 How to Add Cards to a YouTube Video
Navigate to the Creator Studio on your YouTube channel.
Click Video Manager and select a video to add a card to.
Click Edit.
Click Cards.
Click Add Card.
Select the type of card you want: Video or Playlist to promote other content on your channel, or Link to send the viewer to a sales page with a sponsored card.
Once you've created your card, you can choose where and when it appears on the video.
YouTube Ad Specs
Below is a quick rundown of YouTube Ad sizes for videos and non-video.
Ad requirements For TrueView, Non-skippable, and Bumper ads
Video Codec: H.264, MPEG-2, MPEG-4
Audio Codec: AAC, MP3
Video Resolution: 640×360 (19:9 aspect ratio) or 480×360 (4:3 aspect ratio)
Frame Rate: 30 FPS
File Size: 1 GB max
You can choose from four auto-generated thumbnail previews for TrueView Ads appearing in YouTube's search result and in the Display Network.
Overlay ad dimensions and specs
When you run an Overlay Ad, one image will be required to appear over the 20 percent of a video. If choosing an animated GIF file, keep the animation loop under 10-Seconds.
YouTube Ad Dimensions: 480pixel X 70pixel
Image type: PNG, JPG, GIF (static or animated)
Ad image size: 150 KB max
Display ad specs
The animation loop must be 30-Seconds or less if you must include animated GIFs in your display Ads.
Ad Dimensions: 300pixel X 250pixel
Image type: PNG, JPG, GIF
Ad image size: 150 KB max
Sponsored cards dimensions and specs
If you are going with a sponsored card, write a convincing CTA to accompany it. Ensure you select an image that clearly shows your product.
YouTube Ad Dimensions: variable (1:1 aspect ratio)
Image type: PNG, JPG, GIF (can be animated)
Ad image size: 2MB max
YouTube has a couple of rules and regulations around the type of content they allow on the platform. Remember this when setting up and running your Ads.
8 best practices for YouTube ads
After reading and studying the different YouTube Ad types, and the rules and regulation of the platform, you can successfully set up run a YouTube campaign that converts. But, before you run that Ad, here are eight best practices to guide you.
Capture Viewers Attention with Engaing, Relevant Content
When you present your product in action through YouTube Ads and other content on your channel, you are sure to get people buying your product or services.
Most people watch YouTube videos to research products before purchasing the product, so ensure that create something to impress them. With video Ads, you should try to tell a story that your viewers can relate to; a story that happens to include your product.
Optimize Your Video for Search
It is important that your title is simple and straight to the point. This will help a user remember your Ad, if they clicked away and want to come back. Ensure that your Ad title is relevant to the user's search terms, so that it will appear on YouTube's result pages.
Add a 'Join' button to your YouTube channel
YouTube rolled out a new feature in 2018, that gives viewers access to special perks for a monthly fee of $4.99. The join button adds makes your channel exclusive, giving you a way to reward your loyal followers.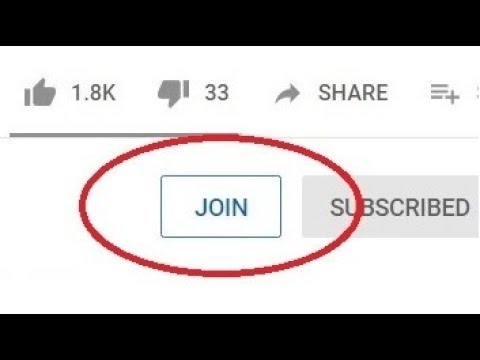 You need a minimum of 30,000 followers to get the add button added to your channel. People who join your channel are paying to become brand ambassadors. A badge is added to their public profile showing that they support your brand.
This is really something big, as it arouses curiosity among viewers, especially if they posted on competitor's videos, thereby bringing more traffic to your channel.
Other benefits include custom emojis and special members-only-promotions, which is another way to sell your products or services.
Curate Playlists For Your Content
A good way to tell stories that keep your viewers engaged and interested is organizing your videos. Create videos in series, with a satisfying viewing experience for your subscribers by guiding them through the best your channel has to offer. The series shouldn't be too long and make sure it leads them towards a purchase.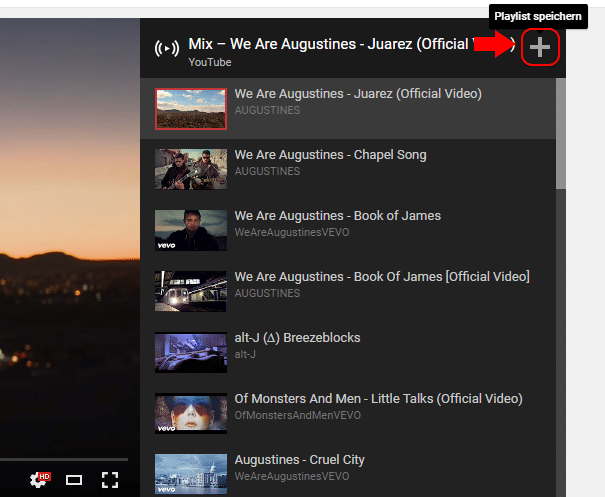 How to Build a YouTube Playlist
Select the video you want to add.
Under the video, click Add to and the + sign.
Click Create new playlist.
Give your playlist a name (keep it simple and searchable).
Change the privacy settings using the drop-down menu. Make sure it's set to public.
Click Create.
There you have it! You have successfully created your playlist. You can locate your playlist in the Guide section, located on the left side of the YouTube's interface.
Publish Content on a Regular Schedule
When you start your YouTube channel, you have to keep it alive by publishing fresh contents regularly. Trust me, you don't want a prospect clicking your Ad only to see a dead channel or a channel filled with old videos.
Creating your videos doesn't have to be a huge, expensive project. Many successful YouTube videos are filmed at home. This is not to say that your video should look unpolished and unprofessional. Ensure you pay attention to YouTube's Ad specification.
Stand Out From Your Competitors
In the U.S., just 9 percent of small businesses are active on YouTube, however, the trend is changing gradually. The number of small and medium-sized businesses advertising on YouTube has doubled as marketers are discovering new ways to reach their prospects on YouTube through influencer partnerships and new video trends that don't need expensive recording equipments or a high-end production team.
'How-to' videos have been reported to be more popular than any other video type on YouTube. You can try following that trend to see how far it can go.
Working with an influencer is another great way to generate new audiences. To be successful in this type of partnership, you must keep things authentic: most people will spot a product placement from a mile away if it's not done subtly.
YouTube Ads are crucial to any marketing effort and they're only going to get more important as the demand for social video continue to grow. Make use of the information you have gained here to create your own strategy before going in.
Don't go Too Short
All successful TrueView video Ads tell a story that viewers can relate to, that demands attention. Recent studies show that YouTube is now prioritizing longer videos in search results, which suggests that users prefer watching long-form content to short ones.
Include a Compelling Call-To-Action
TrueView for Action optimization allows you to add a headline and a Call-To-Action button to your In-stream Ads. This makes your Ads open for viewers to take action, whether you're looking to generate leads or increase conversion.
This optimization is paid for on a cost-per-action (CPA) basis. This means you only pay when a viewer clicks your CTA button.
To get more information about TrueView for action campaign, check out Google post on the subject.
Read and digest this guide and you will be well on your way to creating high converting YouTube Ads specific to your product or services.